Born Pretty Store
is an international manufacturer and seller of nail art products at very affordable prices. They also offer
Cosmetic Products, Jewelry & Accessories, Toys,
and a lot more. They offer FREE Worldwide Shipping and they have lots of discounts, freebies, and promos, too!
They shipped this 12-Color Nail Acrylic Paint Set out to me last April 26, and they told me that it would reach me after 2-4 weeks. I was able to get the package by May 15 (that's roughly 3 weeks after BPS shipped it out), although the slip from the Central Post Office tells me that it arrived there on May 10 (that's 2 weeks after!). So yes, I could say that they are prompt when it comes to shipping. I'm used to waiting for two weeks (or more) for international deliveries, but this one has been the fastest international transaction I had so far.
Moving on to the review, let me show you some more photos first. :)
comes with the BPS Pink Card
Has 12 vivid, easy to mix colors in 12mL tubes
Now let's take a look at my first two projects working with
Born Pretty Store
's
Acrylic Colour Set
:
and a few days after, I just can't get enough of my acrylic paints so I made a new nail design:
What I love about Born Pretty Store's Acrylic Colors:
Easy mixing. I did not have any trouble with mixing the colors because the fluid was consistent, and I don't have to worry about getting the wrong color because the color label goes really close with the actual color of the paint.
Easy application. The paint goes on smoothly so it does not make too much lumps on my nail design, unlike the previous acrylic paints I've tried.
Vivid colors. The paints are very pigmented, so I really get the color that I want. Also, I don't need to use up too much paint because a little amount is usually enough for me to achieve the hue that I want.
Why buy nail art & cosmetic goods from BornPrettyStore.com?
Worldwide Free Shipping - No Minimum Orders


We provide worldwide free shipping service to all customers ignoring the price and distance with no minimum order requirements . And we make sure the products you bought reach you by free shipping safely and intactly.

Secure Online Shopping


Security is the top priority at bornprettystore.com. We ensure the security of all transaction data by using advanced security solution provider, so your information is in excellent hands. Online shopping had never been safer and easier. Stay safe online with us.

Easy to Order


You can order goods through bornprettystore.com even only after registering! We accept major credit and debit cards, and secure payment option PayPal is supported too. We also accept bank transfer and Western Union payments. Get started now!
Excellent Customer Service


We have provided support to thousands of customers throughout the world. Based on our experience, you can rest assured your enquiries will be solved in a timely fashion. With your help and trust we will continue to improve our services to offer you the best support in the market. And we promise if you have any issue, we'll try our best to follow up and offer the 100% satisfied customer service for you.

30 Days Money Back Guarantee


If for some reason you're not satisfied with our product or service, you can return the products to us in original package and we will FULL refund your money after we get the package!

Free to Join


Registering only takes seconds and is free, after which you'll have your own brand-new shopping cart to fill with whatever you want! What you need to start is just a valid email address. Start buying online and grab a bargain today!
So what are you waiting for? Go and try out Born Pretty Store now!
You could use my discount code to get 5% OFF your purchase!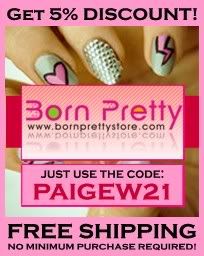 (valid until December 31, 2012)
And not only that. Born Pretty Store will sponsor a giveaway on this blog when this coupon be used more than 10 times. So help me spread the news! Share this code to your friends! ;)
VISIT BORN PRETTY STORE NOW!
Love lots,