See the ZUPER AWEZOME banner with lotsa shoes above?
It's from Char and Nina's BLOGVERSARY GIVEAWAY!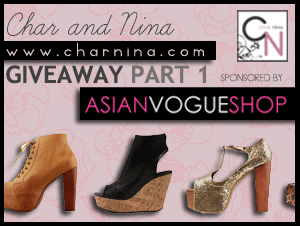 wants to celebrate the Holidays and their FIRST BLOGVERSARY with all their fans and readers! With this, they had teamed up with
Asian Vogue Shop
to give ONE LUCKY WINNER a
FREE
pair of shoes (her choice)!
For contest mechanics and other details,
click on the photo above or